Posts for tag: dental implants
By Yorkville Smiles
October 01, 2018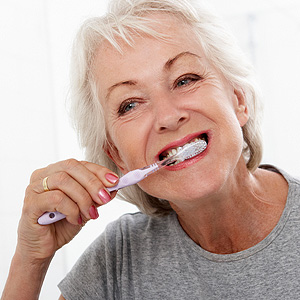 So, you've just acquired an attractive restoration with dental implants. You may be thinking at least with these teeth you won't have to worry about dental disease.
Think again. While the implants and their porcelain crowns are impervious to decay the surrounding gums and bone are still vulnerable to infection. In fact, you could be at risk for a specific type of periodontal (gum) disease called peri-implantitis (inflammation around the implant).
Bacterial plaque, the thin bio-film most responsible for gum disease, can build up on implant crowns just as it does on natural tooth surfaces. If it isn't removed with daily brushing and flossing and regular dental cleanings the bacteria can trigger an infection in the gums.
Besides weakening gum tissues, gum disease can also cause bone loss, of critical importance to dental implants. An implant depends on the bone they're inserted in to hold them in place. If the bone around an implant becomes infected it could begin to be lost or dissolve (resorb), which could lead to loss of the implant.
That's why it's critical to keep the natural tissue structures supporting your implants infection-free. Not only is daily hygiene a must, but your implants and any remaining natural teeth should undergo professional cleaning at least twice a year or more if your dentist recommends it.
Cleanings involving implants will also be a bit different from natural teeth. While the dental materials used in the crown and implant post are quite durable, regular cleaning instruments can scratch them. Although tiny, these scratches can become hiding places for bacteria and increase your risk of infection.
To avoid this, your hygienist will use instruments (known as scalers and curettes) usually made of plastics or resins rather than metal. The hygienist may still use metal instruments on your remaining natural teeth because their enamel can tolerate metal without becoming scratched creating a smoother surface.
While keeping implants clean can sometimes be a challenge, it's not impossible. Implants on average have a long-term success rate above 95%. With both you and your dentist caring and maintaining these state-of-the-art restorations, you may be able to enjoy them for decades.
If you would like more information on caring for dental implants, please contact us or schedule an appointment for a consultation. You can also learn more about this topic by reading the Dear Doctor magazine article "Dental Implant Maintenance: Implant Teeth must be Cleaned Differently."
By Yorkville Smiles
September 01, 2018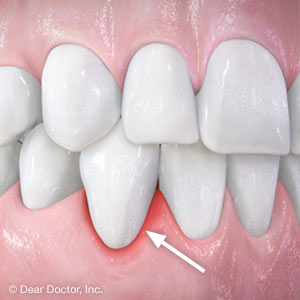 Teeth-replacing dental implants not only look life-like, they're made to last. For one thing, the metals and dental materials used in them are impervious to bacterial infection.
But that doesn't mean implants are impervious to failure. Implants depend on the bone and other natural mouth structures for support. If the bone becomes weakened due to disease, the implant could become unstable and ultimately fail.
Peri-implantitis, the condition that can lead to this kind of failure, is a major concern for implant longevity. It's a type of periodontal (gum) disease triggered by plaque, a thin film of food particles that can build up quickly in the absence of adequate brushing and flossing. The gum tissues around the implant become infected and inflamed.
If the infection isn't properly treated with renewed oral hygiene and clinical plaque removal, it could spread below the gum line and begin to damage the underlying gum tissues and bone. This could destroy the all-important connection between the titanium implant post and the bone. The implant could eventually loosen and become completely detached from the bone.
The key is early intervention before the bone becomes damaged. Besides plaque removal we may also need to apply antibiotics in some form to control the growth of disease-causing bacteria. If the disease has fairly advanced we may also need to consider surgical repair to strengthen the attachment between implant and bone.
You can help to avoid peri-implantitis altogether by practicing consistent daily brushing and flossing around all your teeth including the implant, and seeing your dentist at least twice a year for cleanings and checkups. And by all means see your dentist if you notice any signs of gum swelling, redness or bleeding. Staying on top of your gum health will help not only the natural tissues and remaining teeth in your mouth, it will help preserve your implants for decades to come.
If you would like more information on maintaining your dental implants, please contact us or schedule an appointment for a consultation.
By Yorkville Smiles
August 22, 2018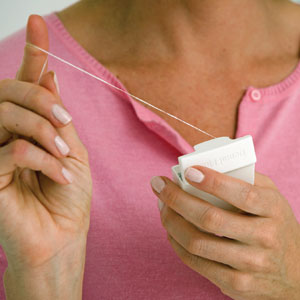 With a 95%-plus success rate, dental implants are an effective and durable replacement for lost teeth. But we can't place them and forget them: if you don't clean and maintain them they could fail as a result of disease.
The inorganic materials that make up the implant aren't in danger of infection. But the living gums and bone that surround and support the implant are at risk. In fact, there's a particular periodontal (gum) disease involving implants called peri-implantitis ("peri" – around; implant "itis" – inflammation).
Peri-implantitis begins when the gum tissues around the implant become infected and inflamed. This happens most commonly because plaque, a thin film of bacteria and food particles, builds up on implant surfaces. Another less frequent cause is a buildup of excess cement used to bond the crown to the implant. We need to remove the built-up plaque or the excess cement during your dental visit.
If the infection isn't treated or you don't keep up effective, daily hygiene practices, the infection can grow and extend deeper into the tissues and finally the bone. This can destroy the all-important integration of bone and metal titanium post that has created the implant's strong hold. When that support becomes compromised the implant can lose its attachment and, if untreated, eventually fail.
It's important to keep an eye out for any indications you may have a gum infection around an implant. Look for redness, swelling, bleeding or pus formation. If the implant feels loose, this may mean that extensive bone loss has already occurred. If you encounter any of these signs, see us immediately for an examination.
The best approach, though, is to prevent peri-implantitis in the first place. So, brush and floss daily around your implant as you do your natural teeth. And be sure you keep up regular dental cleanings and checkups.
With proper care and maintenance you can avoid problems with disease that could affect your implant. Healthy gums and bone will ensure your implant will last for many decades to come.
If you would like more information on preventing disease involving your dental implants, please contact us or schedule an appointment for a consultation.