Posts for tag: pediatric dentistry
By Yorkville Smiles
February 09, 2019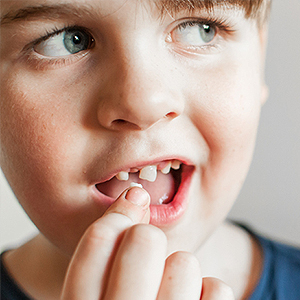 We all know that a child's baby teeth don't last forever. So if those little teeth develop problems, like severe decay, chips or cracks, it doesn't much matter—right? Wrong! National Children's Dental Health Month, observed in February, is the perfect occasion to remember why baby teeth need the same meticulous care as adult teeth:
Baby teeth perform the exact same jobs adult teeth do, only in little mouths. Without healthy teeth, a child can't eat comfortably, speak properly or smile with confidence. Given that the last baby tooth doesn't fall out until around age 12, children need to rely on these "temporary" teeth for a long time!
While there often are no symptoms of early tooth decay, badly decayed baby teeth can become painful—and the problem may get worse quickly. Untreated tooth decay can lead to suffering and expense that could have been avoided with relatively simply dental treatment.
Baby teeth help guide adult teeth into the right position. Each baby tooth helps hold the right amount of space open for the next tooth that will grow in. When a baby tooth is lost before the permanent replacement is ready to grow in, orthodontic problems can result.
As you can see, good dental health has a big impact on a child's quality of life and health—in both the present and the future. That's why it's important to treat childhood dental disease and injuries promptly and properly. Regular dental exams are the best way to keep on top of your child's dental health. If a cavity is discovered at a routine exam, prompt treatment can keep the decay from spreading to the root canals.
If your child plays sports, ask us about a custom-made mouthguard. This small device can protect your child's teeth from serious injury.  And if a baby tooth does get knocked out, let us know. It may be best to fit your child with a very small dental device called a space maintainer, which will hold that empty space open until the permanent tooth beneath it grows in.
If you would like more information about children's dental health, please contact us or schedule an appointment a consultation. You can also learn more by reading the Dear Doctor magazine article "Importance of Baby Teeth."
By Yorkville Smiles
October 11, 2018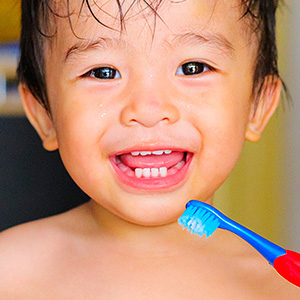 October is National Dental Hygiene Month. It comes as no surprise that good dental hygiene habits are best acquired early in life—and with good reason, as tooth decay is the most common disease among children. In fact, a full 43 percent of U.S. children have cavities, according to a 2018 report from the U.S. Centers for Disease Control. So how do you start young children on the path to a lifetime of good oral health? Here are five tips for instilling good dental hygiene habits in your kids:
Set a good example. Good—and bad—habits often start at home. Research shows that when young children notice other family members brushing their teeth, they want to brush, too. So let your child see you brushing and flossing your teeth, and while you're at it model good nutritional choices for optimal oral health and use positive language when talking about your own dental visits. The example you set is a powerful force in your child's attitude toward oral care!
Start early. You can start teaching children brushing techniques around age two or three, using a toothbrush just their size with only a pea-sized amount of fluoride toothpaste. If they want to brush by themselves, make sure you brush their teeth again after they have finished. Around age six, children should have the dexterity to brush on their own, but continue to keep an eye on their brushing skill.
Go shopping together. Kids who handpick their own oral hygiene supplies may be more likely to embrace the toothbrushing task. So shop together, and let them choose a toothbrush they can get excited about—one in their favorite color or with their favorite character. Characters also appear on toothpaste tubes, and toothpaste comes in many kid-friendly flavors.
Make dental self-care rewarding. Why should little ones care about good dental hygiene?  Young children may not be super motivated by the thought of a long-term payoff like being able to chew steak in their old age. A more tangible reward like a sticker or a star on a chart each time they brush may be more in line with what makes them tick.
Establish a dental home early on. Your child should start getting regular checkups around age one. Early positive experiences will reinforce the idea that the dental office is a friendly, non-threatening place. Children who get in the habit of taking care of their oral health from an early age have a much better chance of having healthy teeth into adulthood.
If you have questions about your child's dental hygiene routine, call the office or schedule a consultation. You can learn more in the Dear Doctor magazine articles "Do Babies Get Tooth Decay?" and "How to Help Your Child Develop the Best Habits for Oral Health."